Spanish Best Homes has the pleasure to offer this fantastic ground floor apartment for sale with sea views in La Manga
2 bed apartment for sale in La Vaneziola in La Manga
Price: 72.000 €
Property Description
Beautiful and cosy 2 bedroom apartment for sale in la Manga, San Javier, near Veneziola, being 2nd line to beach offering sea views. The property is located in the corner of a block with lift being part of an urbanisation with communal pool and landscaped gardens. You can enjoy the beaches of both seas, Mar Menor and Mar Mediterraneo. The property comprises of 2 bedrooms, 1 bathroom, nice lounge and open plan kitchen, a storage at the entrance and a nice terrace with sea views and views to the communal pool, It is great value for money and makes a fantastic holiday apartment for those enjoying tranquility and lovers of the sea. There is a covered parking space included in the price.
Link to this bargain apartment for sale in La Manga
La Manga del Mar Menor in Murcia
La Manga del Mar Menor1​ es una población española asentada sobre un cordón litoral situado en el sureste de la península ibérica, en la Región de Murcia y, tras su urbanización en la segunda mitad del siglo xx, es un centro turístico de gran importancia.
Pertenece a los municipios de Cartagena en su parte sur y San Javier en su parte norte, que han constituido un consorcio para administrar la zona.1​ El istmo al norte del canal del Estacio es un espacio protegido denominado Salinas y Arenales de San Pedro del Pinatar que da continuidad al cordón litoral y forma parte del término municipal de San Pedro del Pinatar.
Introduction
La Manga beach is situated on the Murcian coast, and is one of my favourite beaches, not only in Murcia but in the whole of Spain. The south of the beach belongs to Cartagena, and the north to San Javier, two different municipalities in the Region of Murcia.
For those who aren't Murcians, if you're in Murcia I really recommend you visit this area, whether you're on your Erasmus exchange or not, since it's an unmissable place.
Geographical information, population and a bit of history
La Manga is a relatively thin strip of land, long enough to have a main road and houses on either side of it. From its start at the end of Cabo Palos to its end at the salt lakes of San Pedro de Pintar, La Manga stretches 22 kilometres . In the last census, La Manga had some 17, 000 inhabitants, though its population swells to 200, 000 during the summer months. Imagine the difference between winter and summertime for the residents who live there all year round…
Until a few decades ago, La Manga was a natural area, with virgin beaches and devoid of all buildings. In the 1960s however, the Maestre family with Tomás Maestre at its head acquired the majority of the La Manga land and began building. The site progressed from having 15 buildings in 1970 to having more than 4, 730 in 1981. The change was huge and quite sudden, and every time we visit my parents still tell me even now how when they were young and used to go to La Manga there were no houses there at all, how cheap it was to buy a new house there when the boom started and how they regret not having done it at the time. Today, La Manga is completely urbanized, and there remain only a few remnants of its former appearance – above all its start and end.
La Manga is the only beach in Spain which has a different sea on either side of it: on the Western side is the Mar Menor, and on the Eastern is the Mediterranean Sea. Many years ago, the Mar Menor used to be bay opening onto the Mediterranean Sea until the strip of land which is La Manga was formed, and turned the Mar Menor into a closed-off lake. The Mar Menor and the Mediterranean Sea meet at the channels at La Manga, which are canals which cross La Manga horizontally and exchange water between the two seas. There are various natural channels, and one artificial one.
La Manga is considered a beach in itself, though its more than 20 kilometre-long stretch is divided into other beaches, the most famous of these being the following: Playa de los Alemanes, Playa de Marchamalo, Playa de las Sirenas, Playa de Puerto Bello, Playa de Entremares, Playa Chica, Playa del Pedruchillo, Playa del Ciervo, Playa Galúa and Playa La Veneziola.
In terms of the housing areas that cover La Manga, the best-know are El Pedruchillo, Las Sirenas,
El Galán, Los Castillos, Veneziola, Monteblanco, Oasis, Manga Beach and Pirámedes.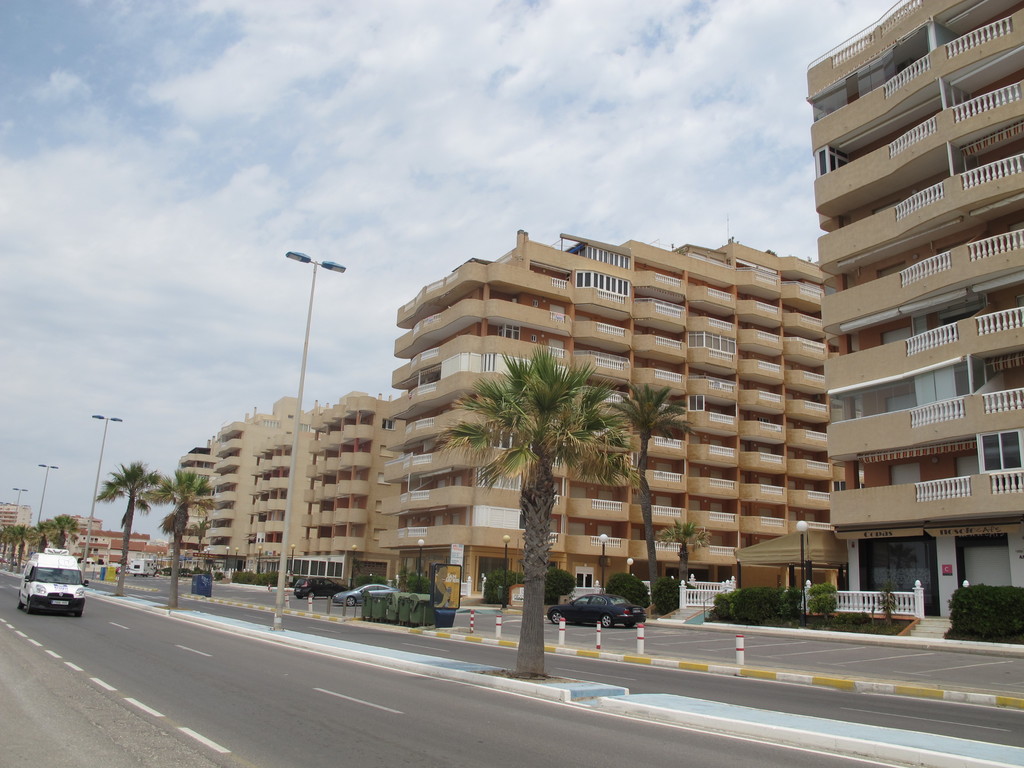 La Manga isn't just a beach and a housing area: there are also several islands and islets on both seas. In the Mediterranean Sea, the Isla Grosa and the Islote del Fallarón are very nearby, and a monument to the Isla Grosa can be seen at one of the roundabouts on the road leading to Molina de Segura, after passing through the Campus de Espinardo area. La Isla de las Hormigas is also near to La Manga in the Mediterranean Sea.
In the Mar Menor on the other hand, there are even more islands, which are easiest to reach on a boat trip. The most relevant islands are the Perdiguera, the Isla del Barón and the Isla del Ciervo.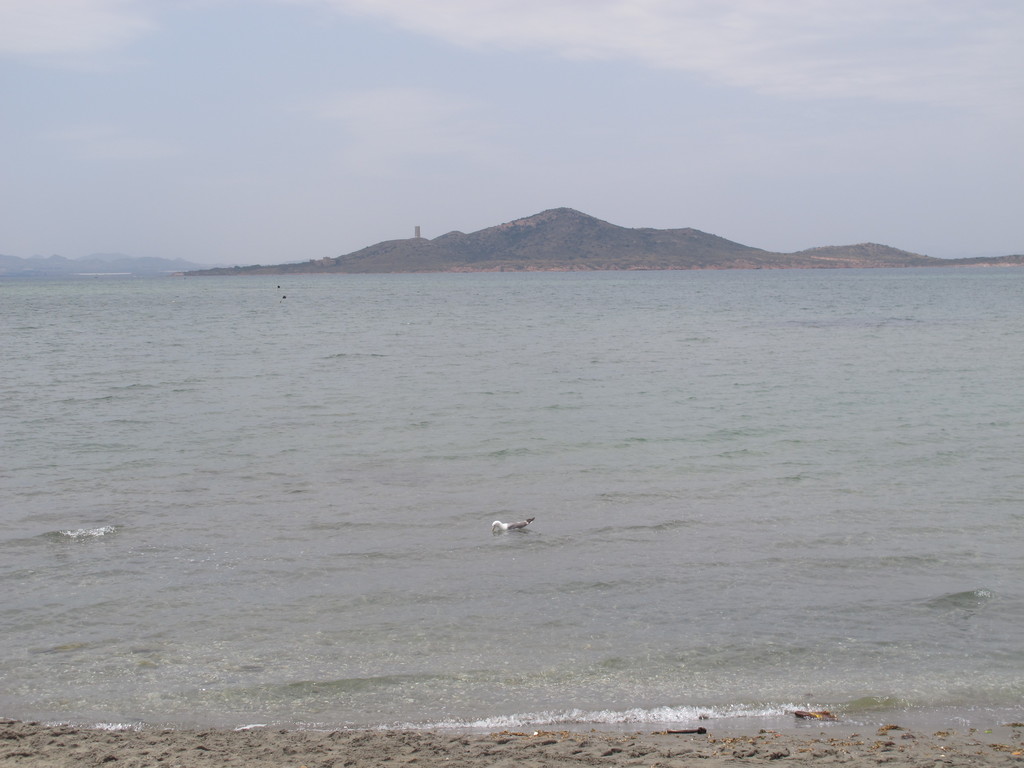 The road which runs the length of La Manga is the 'Gran Vía', and is a two lane road with a bike lane and pedestrian path. There are however several kilometres where there is only one lane, and above all at the weekends in the summertime traffic jams form, meaning that it takes a long while to get into or leave La Manga. Because of this, I recommend you don't take your car to La Manga at the weekend in the summertime, and that you avoid going at the busiest times of the day, else it'll take you just as long to get out of La Manga as it takes you to drive there from Murcia! The housing areas on La Manga are also accessible from the Gran Vía.
Housing areas, shops and places of interest
I'm now going to list the best-known places in La Manga for you, including the housing areas, beach bars, commercial areas, clubs, etc. The list is ordered by geographic location, starting with places closest to Cabo Palos and moving on to the end of La Manga. I'll also give a brief summary of the places which might interest you the most.
Entremares. Hotel Entremares is located here, and on the Mediterranean beach there's quite a popular beach bar called 'Lolitas'.
Las Sirenas housing area. There are actually three different sections to Las Sirenas, but they are all right next to each other, so if you don't live there, you won't be able to tell the difference between them. I've been on holiday here, and can only say good things about the area. I love the place, because the houses are low down and white, there's usually a community swimming pool in the middle of a block and the streets are also painted white and feel very Mediterranean. There are also various shops (confectionary shops, knick-knack shops, estate agents, supermarkets… ) so everything you need is close at hand, and you're also close to the Cabo de Palos, the Plaza Bohemia and the Cavanna, which are within walking distance. I also love the beach there.
Gola de Marchamalo. In this area there are a few shops, a small bookshop and a children's play area. The one downside is that the channel is quite smelly.
Zona Cavanna. This is where you'll find lots of necessities, such as Banco Cajamurcia branch, a post office, a confectionery shop named 'La Colegiala' (which has the best chocolate ever), the La Manga Library and a small hospital.
Plaza Bohemia. This square is one of the busiest in La Manga, since it contains restaurants, pizzerias, ice cream cafés, bikini and clothes shops and stalls selling jewellery and other items. Concerts are also sometimes held here. In terms of place to eat, I recommend the Rembrandt Pizzeria which is the most famous pizzeria in La Manga, and you can find another one in Tomás Maestre Port. Mortadelo is a slightly cheaper place, a typical local restaurant which serves hamburgers, sandwiches, chips and hot dogs. It's cheap, the food is good and you can sit out on the terrace.
Monteblanco. This is a residential area in the highest area of the La Manga, on a mini mountain, and has the best views in the area. A friend of mine owns a house there and it's fantastic. There are restaurants on the Mar Menor side. The little houses are white in colour, and the whole area is generally very cute, though getting up and down the hill is a bit tiring. Nearby is the Galúa Hotel, which seems to cut the Mediterranean Sea side of La Manga in two.Before you arrive at Monteblanco, there are two beach bars on the Mar Menor side. I'd recommend the one called 'Dos Mares' since I've been there several times at night and it's a really lovely place – there are several candlelit tables on the sand, and some Hawaiian-style straw umbrellas. They serve all kinds of cocktails and drinks, and also snacks or full dinners. I recommend the 'Cocoloco' cocktail.
El Zoco. This is the widest area of La Manga, and is one of the largest commercial areas you'll find here, although I don't mean to say that they have any big chains like Zara. The area is known as El Zoco since the square there is built in an Arabic style. On the square, there are restaurants, ice cream cafés, pubs, hardware shops, and shops selling beach items and accessories. There's also a petrol station with a Telepizza inside of it (a Spanish pizza chain from whose menu I recommend the 'Barbacoa' and 'Spiro Dog' pizzas).
Los Castillos housing area. This is one of the most expensive places to live in La Manga, but it's also one of the prettiest since the buildings really do look like castles. The downside is that it sometimes smells bad around here. (Los Castillos is about 6 or 7 kilometres along La Manga, for location's sake. )
Manga Beach, Esmeralda, El Galán and Pirámides housing areas. Manga Beach, together with Las Sirenas and Los Castillos, is one of my favourite places to go on holiday. The Pirámides housing area is so named as there is a building there with a pyramid-like shape. The La Manga Nautical School is situated nearby.
The El Pedruchillo, El Pedrucho and Hawaii areas are where La Manga thins out, and walking through them is a spectacular experience as the two seas are closer than ever: it's possible to have a house from which you can see both the Mediterranean Sea and the Mar Menor at the same time. If you visit this area at dawn or at dusk, you'll remember the view for the rest of your life.
El Paquebote is located within the ninth kilometre of La Manga, and is a boat restaurant on the shores of the Mar Menor. They serve the 'calderos here'. For those who don't know what this is, it's a typical dish in the Mar Menor area and my favourite meal in the whole world. The principal ingredient is rice, together with a soup made from fish and spices. It's served with garlic and oil dressing, and tastes delicious. It's quite expensive if you compare it with a hamburger for example, and sometime you need to reserve in advance, since it takes some time to prepare the dish, but it's definitely worth it, and is a key part of Murcian gastronomy.
Tomás Maestre Port. Located between kilometres 10 and 11 of La Manga, this area is famous for its sports port with restaurants on the shores and for its bridge which sometimes raises to allow boats to pass through. If you arrive at the port in your car and the bridge raises, you'll have to wait around 20 minutes until you can cross. At first you'll admire watching it rise, and later you'll just find it annoying. There are lovely views of the houses on the channel shores from the bridge.
Veneziola. This is the final important housing area on La Manga. The flats here are the newest ones, but it's also an area you can really relax in as it's not right next to the hustle and bustle of La Manga's busier places. Here you'll find one of the prettiest beach bars or pubs that I've ever seen, Collados Beach, which I'll tell you about in another post. To finish your tour along La Manga, go to the Puente de la Risa (Laughter Bridge in English – yes, it really called that, there's a sign and everything! ). It's a little bridge in the Veneziola area famous for how high it is, since when you drive over it you get butterflies in your stomach when you come down on the other side. Mad, but I like it!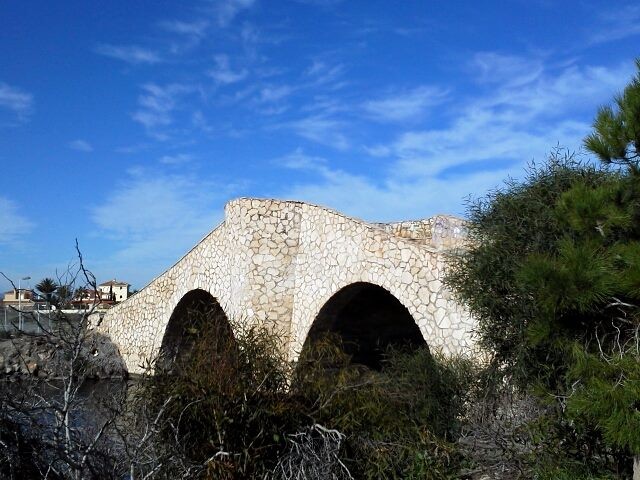 La Manga has been in several films of course. None of them have been blockbusters, but you'll at least have heard of their protagonists. Films which have been shot here include 'La vida sigue igual' with Julio Iglesias in the leading role. and 'Un lugar de La Manga', featuring Manolo Escobar and Concha Velasco.
Clubs and where to go partying
La Manga completes its offer to tourists with its variety of nightlife areas. There aren't many, but they're decent.
El Zeta. This is the biggest club in La Manga, and is located within the first kilometre quite far from the Gran Vía, and so is best reached by car. I quite like it there, since it's like a giant beach bar leading onto the sand, with a club area included and sofas and seats on the Mar Menor beach. There's a great atmosphere here by day and by night, so you can come clubbing here and also visit during the daytime.El Zeta gets very busy on Sunday evenings, and lots of people order a watermelon filled with alcohol while they sit on the beach with friends. Some people even arrive at El Zeta by boat or water scooter. The only thing I don't like about this place is the sea in this area, since there are often lots of jellyfish, which means you often get uncomfortable lying on the beach all day but not being able to go for a quick dip in the sea to cool down. Another thing I don't like is the amount of posers and body builders who come there just to show off. You have to arrive early if you want to get a sofa or a seat for you and your friends, but the other option is just to sit on your towel on the beach.The nightlife here isn't bad, but to be honest I stopped going here because of the kind of people it attracts, and I go to Mamaluna and Bongo more often instead. There's a party on almost every night, but depending on what day it is you might have to pay an entrance fee. On the days where you do have to pay, it's usually about 10 euros with a drink included. You can drink lots in the area outside the club before you actually go in. The parties usually start at midnight, and finish at around 6 or 7am.El Zeta has private parking, although depending on the day you may have to pay to park there. On other days, there's no parking available at all, but there is a nearby area for leaving your car.
Bongo Bar. This pub is located in the Hotel Cavanna area, within the third kilometre of La Manga. My friends and I love coming here, unless it's a Mamaluna day. The pub has a club-like area inside and an outside terrace. Depending on the day, you can either get in for free or for the minimum entrance fee (3 euros). Most people who go there are in their twenties, and the music is typical dance music (also on some nights they have special Latino music nights), and generally there's enough space to dance without banging into other people and laminate flooring. Bongo Bar closes quite early, at 3 or 4am.Before going into Bongo Bar, you can drink outside, although I don't recommend doing that as sometimes the police come. You can also go to the bars just in front of it and get some shots. The bars I recommend and which are the most popular are 'Jimmis' and 'El Barón de la Birra'.
Zona del Zoco. This area has a few small clubs and pubs, but they are for minors and aren't really frequented by people in their twenties. Despite this, they're good for having a drink on weekdays.
Mamaluna. Although it's not actually in La Manga, but instead in Cabo Palos, this is the most popular place for young people on holiday in La Manga. You can find more information about it in my post about Cabo de Palos, or on this website: www.areacabopalos.com/discoteca-mamaluna.html
I recommend you get the bus to these places (there's also a bus to Mamaluna), since if you're going to be drinking, taking the car isn't really an option, and the police often run breathalizer tests on drivers.
Opinion and top tips
As I mentioned at the start of this post, La Manga is one of my favourite beaches, and I have a lot of affection for this area and lots of fond memories of it, from playing on the beach and in the waves as a child to nights out at Zoco and evenings on the beach with friends as a teenager, and then finally partying at Zeta and Mamaluna until I've reached the age now where I prefer a nice meal on the shore, a drink at a beach bar, and going to the beach in the mornings. The best thing about La Manga is that you can enjoy your time here no matter what age you are, since it offers activities and areas for everyone.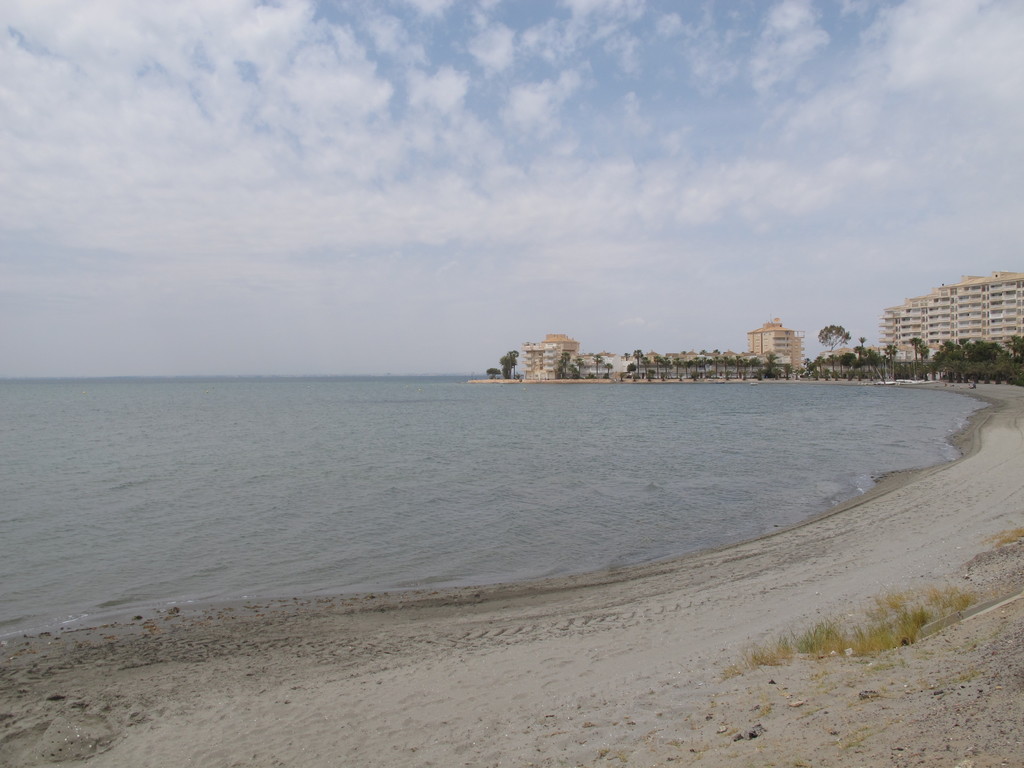 La Manga is my favourite part of the Region of Murcia, and so when I brought two of my Erasmus friends to Murcia, a Japanese girl and a Taiwan girl, we went to La Manga even though it was Christmas time. It was still definitely worth it, since they loved it, and so did I because I was missing the beach in Strasbourg.
In answer to the question of what beach you should choose to go to in La Manga, my answer is that it depends what you're after. The Mediterranean Sea is better for swimming in than the Mar Menor. The Mediterranean beaches are also better than the Mar Menor's, in my opinion, since not only are the waves better, but the water is also usually cleaner, the sandy areas are bigger and there are more young people.
However, the Mar Menor also has its advantages, since during the summertime La Manga is often crammed full of tourists and holidaymakers, and so sometimes the Mar Menor can be a quiet refuge as there are less people there. They also say that the Mar Menor's water is better for older people (I'm not sure why, perhaps for the bones or something, but good for something). The waves are smaller, that is to say, there are almost no waves at all, meaning that for older people and young children it's a more convenient area to swim in. The water is warmed than that of the Mediterranean, but in Murcia we always say that's because people pee in the Mar Menor. I'm sure it's not really because of that, haha!
You can make a day trip to La Manga from Murcia, Cartagena and Alicante, or even better, you can rent a house here for a few days and take your time to enjoy the area. It's quite easy to rent a house there, although it depends on when you want to come of course. I wouldn't recommend doing it in the middle of August (if you're a young person like me and can't afford to go unless it's with your family) since because it's peak season the rent is very high, and it's full of people. For a fortnight at the beginning of August, the rent of a one-bedroom house is 1, 200 euros, and to find something, you'll have to book before June (the second fortnight of August is usually easier to book and cheaper, too).
During June and July, prices are about in the middle of the scale, and there's a larger range of flats on offer. You also don't absolutely have to book your stay for two weeks, but rather can choose to come for just one week or for a few days for a good price. In August, they know they can afford to charge you a fortune.
Another option for those with a bit more cash is to stay in one of the numerous hotels in La Manga (for example, Hotel Los Delfines, Hotel Cavana, Hotel Galúa, Hotel Entremares… ), but the situation is the same as it is with the houses in that in August rooms are very expensive and everywhere is full to bursting.
Last of all, the cheapest and uncomfiest option is the Caravaning La Manga campsite which has a tent and a bungalow area. It's located a few kilometres away from the Autovía de La Manga, and in front of the Calblanque National Park, which has some amazing virgin beaches. You can view vacancies, services and tariffs on this website: www.caravaning.es
Water Activities
Since the beaches are great here and there isn't just one but two seas, you can do all kinds of water activities and sports in La Manga.
Sailing
Kayaking
Surfing
Kitesurfing
Diving
Banana boating
Windsurfing
You can do these activities of your own accord, or register to do them and rent equipment from one of the Water Sport Schools in La Manga.
Future of La Manga
In terms of the future of La Manga, I'm no fortune-teller, but two important changes have been predicted. The first, and least important, is the fact that they have already spent years trying to connect La Manga to Lo Pagán beach by road (so the end of La Manga with the final beach of the Mar Menor). There are various negative aspects of this however, since the traffic would completely stop the movement of vehicles in the area. At the moment, you have to take a ferry from Tomás Maestre Port to cross over to Lo Pagán.
Second, scientists say that La Manga will disappear entirely within a few decades due to climate change and the rising sea level. This shocks most Murcians, as we can't imagine Murcia without La Manga, nor all the houses and shops submerged beneath the sea, so we're crossing our fingers that this tragedy doesn't happen.
How to get to La Manga
To get to La Manga from Murcia, you have two options: going by bus or by car.
If you want to take the bus, the best company which runs a bus to La Manga and which I always use is Lycar. The timetable depends on the time of year, with more buses running in the summertime. You can access it online on the Lycar website, or in the bus station in Murcia in San Andrés, or on their website.
If you want to drive to La Manga from Murcia, it's not difficult, but it'll take you 40 minutes to an hour to get there depending on how the traffic is that day. The best way of getting to Murcia is to take the A-30 from Ronda Norte in the direction of Cartagena. Continue along this road until you see the exit 180 leading onto the E-15/AP-7 in the direction of E-15 'La Manga'. Later on, take the exit leading to MU-312 El Algar/Cabo Palos/La Manga, and after that continue onto the Autovía de La Manga/RM-12 until you reach the Gran Vía on La Manga.
If you are looking for properties for sale in La Manga in Murcia contact Spanish Best Homes Real Estate Agent in La Manga in the Mar Menor: 0034 968 80 84 25
Click here to visit all our properties for sale in La Manga, Murcia